Branch Awards
Golden Pub Award - The Borough Arms, Crewe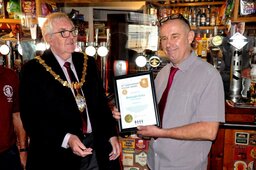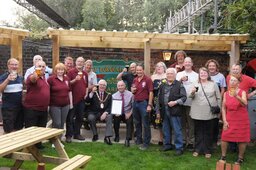 To celebrate it's 50th anniversary CAMRA awarded 50 'Golden Awards' to pubs and breweries who have, over the years, promoted real ales and ciders and who have consistently poured great pints. The photo on the left is the Crewe Town Mayor, Tom Dunlop presenting CAMRA's Golden Award to John. (The photo on the right is some CAMRA membes celebrating the Award!)




[Photos by Paul Tench]
South Cheshire Club of the Year 2021 - Nantwich Club in Nantwich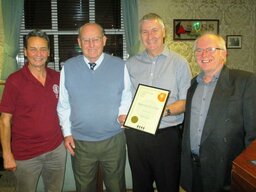 Presention by Derek Davey - Branch Chair (left) and Mike Cutler - Branch Clubs Officer (right) to John Broomhall - Club Chairman (center left) and Gary Crane - Bar Manager (centre right)









South Cheshire Pub of the Season (Spring 2020) - Cotton Arms at Wrenbury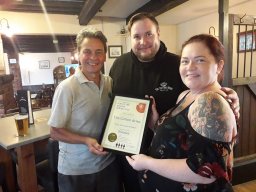 The long delayed, but well derserved award, was finally presented to Jamie and Kim in August 2021. Following the lockdowns and restrictions of the previous 18 months it was great to see the pub had returned to it's pre-pandemic form. On the day of the presentation there were six real ales to choose from - all in very good condition. Congratulations to the Cotton Arms.

South Cheshire Pub of the Season (Winter 2019/20) - The Bridge Inn at Audlem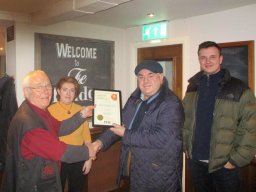 South Cheshire Community Pub of the Year 2019 - Broughton Arms, Haslington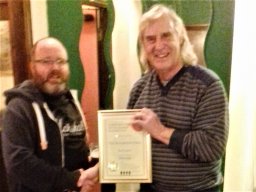 All Cheshire 2019 Pub Of The Year - The Bhurtpore at Aston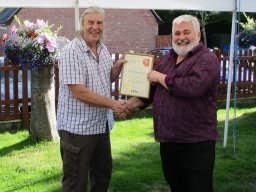 Along with numerous recommendations from the likes of the Good Pub Guide, the Daily Telegraph Pint to Pint, Unusual Pubs by Boot, Bike and Boat & etc The Bhurtpore is South Cheshire CAMRA's most awarded pub.
It has been in the Good Beer Guide for 27 consecutive years, it has been Merseyside, Cheshire and North Wales Pub of the Year (twice), it has been judged on ten separate occasions to be South Cheshire CAMRA's Pub of the Year and it has been judged to be the Best Pub in Cheshire for the second year running.
Congratulations to Simon and his team for acheiving this remarkable list of awards.
Photo shows Paul Tench (CAMRA Cheshire Area Organiser) presenting the Cheshire Pub of the Year certificate to Simon George from the Bhurtpore on 24th August 2019
South Cheshire Pub Of The Season (Summer 2019) - The Swan Inn at Marbury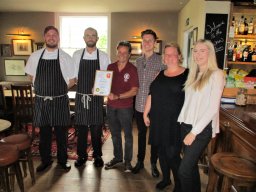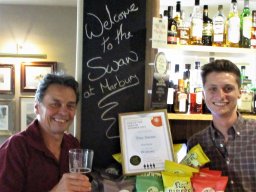 On Saturday July 27th 2019 South Cheshire Branch celebrated their Summer Pub of the Season award at the Swan Inn in Marbury. This little village near Whitchurch was inhabited in Anglo Saxon times and was known as Merebirig or "House by the Mere". Marbury is derived from this name. The magnificent oak tree on the village green was planted in 1814 and was where the Marbury Wakes used to be held last century with dancing bears. Today Marbury celebrates in May with Marbury Merrie Days, takings going to the upkeep of the 13th century church of St Michaels and All Angels. A beautiful waymarked 2.5 mile walk takes you round by the Mere the Church and the hills close by with excellent views right across Cheshire
By the village Oak Tree is the Marbury Swan, a newly- refurbished pub reopened and extended about 18 months ago, with a spacious new patio and a restaurant area. It has a highly-regarded chef, and has steadily built up trade despite its relative isolation
Managed in house by Gemma & Tom, with beers chosen by Courtney, it always has a fine collection of real ales with Station Bitter by Stonehouse as the excellent malty 3.9% house bitter. Guests usually include Beartown and other local breweries, so it has green credentials too.
[Photos by Paul Tench, Report by Francis Sanders]
South Cheshire Pub of the Season (Spring 2019) - Ebeneezers Beer Emporium, Nantwich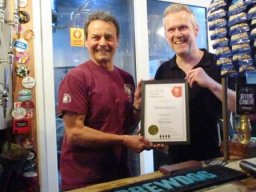 South Cheshire Pub of the Season (Winter 2018/19) - The Cheshire Cheese at Wheelock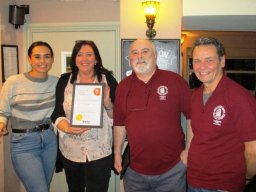 South Cheshire Pub of the Season (Summer) - The Travellers Rest at Alpraham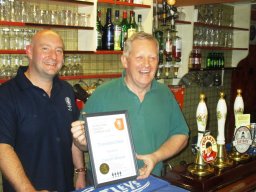 All Cheshire 2018 Pub Of The Year - The Bhurtpore at Aston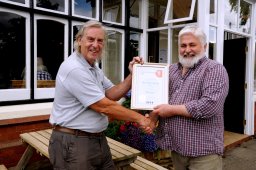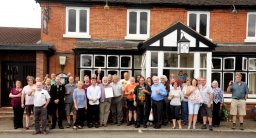 South Cheshire Cider Pub Of The Year 2018 - Hops, Crewe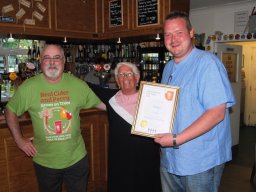 Hops has rightly featured in the good beer guide for a number of years. This time Hops is being recognised for it excellent range of ciders and perrys, with up to 6 that are normally available, representing a range of strengths and tastes to satisfy the wide ranging palates of cider & perry drinkers. The photo shows the South Cheshire Cider officer, Coiln Jones, and the Merseyside & Cheshire Cider Coordinator, Linda Harris, presenting this well deserved award to Mike at Hops.










Special Award to Michelle Shipman & Offbeat Brewery for 7 Years Outstanding Support for Real Ale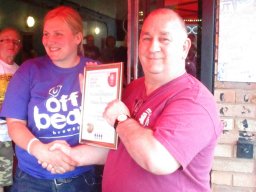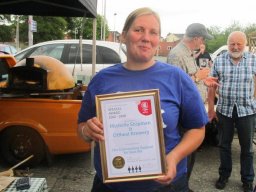 South Cheshire Pub Of The Season Spring 2018 - The White Hart at Hough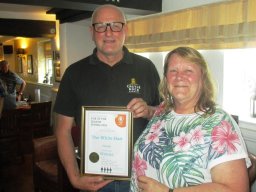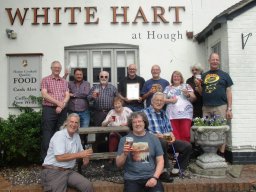 South Cheshire 2018 Pub Of The Year - The Bhurtpore at Aston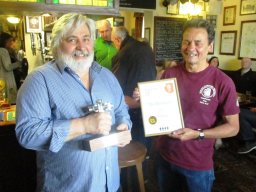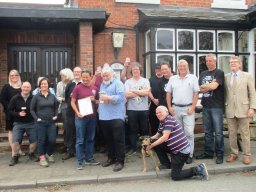 South Cheshire 2018 Club Of The Year - The Nantwich Club in Nantwich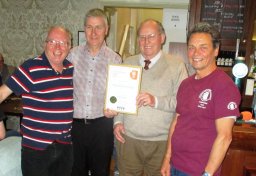 South Cheshire Pub Of The Season Winter 2018 - The Old Hall at Sandbach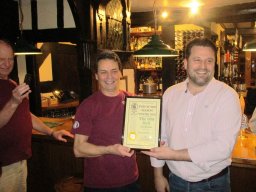 South Cheshire Pub Of The Season Autumn 2017 - The Rising Sun at Scholar Green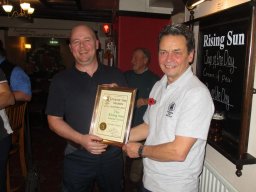 South Cheshire Pub Of The Season Summer 2017 - The Barbridge Inn at Barbridge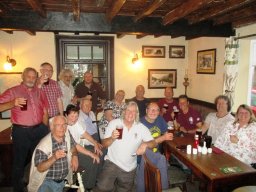 On a wet Friday evening in late July our local South Cheshire CAMRA group set off to the Barbridge Inn, a delightful canal-side pub with a superb beer garden, just off the Chester- Crewe A51. Many made their way by bus as the No 84 virtually stops outside, one of the few buses that seem unaffected by the forthcoming proposed cuts. We gathered for another well -attended monthly branch meeting in a reserved room in the bar area with about 15 of us present. We finished the meeting in record time partly because the background noise of so many locals and visitors enjoying themselves, but also because we wanted to present our Summer Pub of the Season award and get stuck into the Weetwood Beers!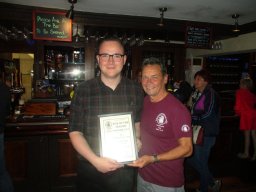 The Barbridge Inn used to be part of the Woodland Brewery stable until a couple of years ago when the new general manager, Moe Jones arrived. He has since parted company with Woodlands and most of his beers, including the house beer, Eastgate, are brewed by the excellent Weetwood. Jonny Brooks as bar manager has made a great success of this transitional couple of years and alongside the other regular Weetwood Ales, Cheshire Cat and Old Dog, other locAles are introduced from a radius of 40 miles or so. As before the pub combines excellent dining facilities too, and by chance we met one of our original South Cheshire Branch CAMRA members from the 1970s who is so impressed with the place that he moors up his boat for long periods of time outside. What better recommendation!
The presentation by our South Cheshire CAMRA Chair Derek Davies was well-received by Jonny Brooks on behalf of the pub to much applause from the many people present.
[Photos by Paul Tench, Report by Francis Sanders]
South Cheshire 2017 Spring Pub Of The Season - The Midland at Elworth
The Midland at Elworth is a traditional old- fashioned two roomed "proper" pub focussing on its small but excellently maintained range of real ales including Brains Rev James and Oakham Citra which were both being served and in good form at our visit one evening in early April. Its enthusiastic new landlord Phil Keely has resurrected this little gem of a pub from long- term closed to thriving freehouse community pub in little over a year. It now has a regular clientele (many of whom were present for the award), well-kept beers, a friendly atmosphere, a knowledgeable host and even an occasional Thai chef who produced some excellent spicy vegetable rolls for us on the night. Thanks for your generosity Phil. Much appreciated.
About 15 of our regular South Cheshire CAMRA members ventured out by train to present Phil with the coveted seasonal award as best South Cheshire pub for the Spring 2017. Hopefully this will put it on the map for others across the area as it is only 100yds from the Sandbach train station and there are frequent trains from both Crewe and Manchester.Best to check whatpub.com for opening times.
[ Photo to follow, Report by Francis Sanders]
South Cheshire 2017 Pub Of The Year - The Bhurtpore at Aston
CAMRA South Cheshire Branch were very pleased to join with Simon and Nicky George in 9th April 2017 to celebrate spending 25 years to the day at proprietors of the Bhurtpore Inn, colloquially known as the Berty. This jewel of South Cheshire has gone from strength to strength under their ownership and has reconnected the family with roots that go back far into the nineteenth century. Meanwhile, under their stewardship the Bhurtpore has successfully been approved for entry in to the Good Beer Guide every single year since they took over in 1992. There must be very few pubs in the Guide that can claim this!
And to top all this The Bhurtpore was judged to be the South Cheshire Pub of the Year for 2017
As ever a large crowd of diners and drinkers were present as well as at least 15 of the local CAMRA South Cheshire contingent to present a very special award to Simon and Nicky on their historic achievement. An award up for all to see is now on the entry pillar. Meanwhile the blackboard indicated the full range of at least 12 real ales of all strengths and types as usual and we were not surprised to find them all in excellent condition. Thanks too to Nicky and the kitchen staff for providing a generous array of sandwiches and hot snacks to complement the great beer, and some of us went on to try those excellent curries once again. Phew!
I wonder whether they will get their 25th consecutive year in the Good Beer Guide. I leave you to guess!
[ Photo to follow, Report by Francis Sanders]
South Cheshire 2016 Winter Pub Of The Year - The Swan at Wybunbury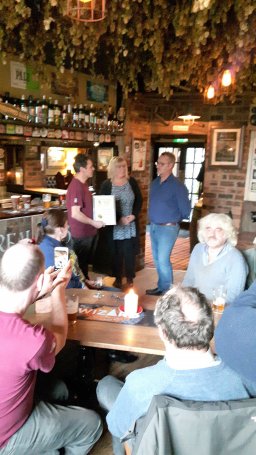 This Robinson's pub set in the heart of the attractive village of Wybunbury is being transformed by the latest tenants Ian and Mel, who are half way through a current five year lease. Their enthusiasm for cellar work, real ale and craft ale is generating increased customer support and excellent turnover. As a local couple their interests are long term, and we hope they are successful in their desire to get a longer lease as they are investing so much money, time and energy to the project.
Having voted for this pub to win the seasonal award against some strong competition, the local South Cheshire CAMRA branch was out in force on Saturday January 28th after a Christmas break, with almost twenty of us taking over the function roomoliulo. We were not only treated to some excellent real ale in the form of the extra strong Old Tom on draft (a rarity these days) but were also able to try out some of the craft beers which are going down very well with the customers. I particularly liked the Big Wave which I believe came all the way from Hawaii. Ian is particularly proud of being able to move customers away from bland lager and try out their taste buds on a widening range of ales.
Robinson's brewery appear to be very obliging with the creativity going on at this particular pub, which is hopefully a sign of things to come amongst the bigger brewers. The Swan is very welcoming, with excellent food, a lively atmosphere, and very comfortably furnished too, and ideal place for family meals , though it also preserves a local bar area for the keen drinkers. Do visit it when you are in the area. You will not be disappointed!
[ Photo by Kez Challacombe, Report by Francis Sanders]
South Cheshire 2016 Autumn Pub of the Year - The Badger, Church Minshull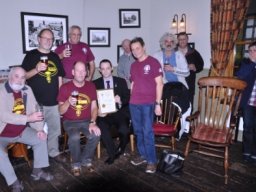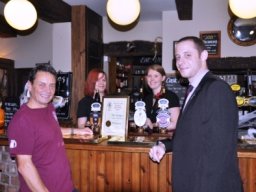 [ Photo by Ian bray, Report to follow]
South Cheshire 2016 Summer Pub of the Year - The Bhurtpore, Aston
A large group from the South Cheshire CAMRA Branch turned out at the Bhurtpore Inn by bike, bus, train and car on Saturday 23rd July to happily award Simon and Nicky George with the Summer Pub of the Year 2016. It seemed suitably approriate for a warm summer day given the large beer garden (now including a marquee in case of bad weather.)
This year Simon and Nicky also celebrate 25 years in charge of the pub since 1991, and clearly have made a huge success of it. They have now been one of the very few pubs nationally to be included for 23 years in succession in the CAMRA Good Beer Guide . With a host of previous awards including CAMRA Regional Pub of the Year, and CAMRA South Cheshire Pub of the Year on several occasions, it is clear that the real ale drinker worships this pub.
The Bhurtpore has a fascinating history. Its oldest section was originally built in the 1720s but it was first rented out by the Combermere Estate to James George in 1849 and eventually sold to Philip George, third generation, in 1895 for £200 remaining with the family until 1901. Then after 90 years in various corporate hands it returned to the sixth generation of the George family when Simon and Nicky bought it in 1991. There may still be hope that when Simon eventually retires (not soon we hope!) one of their two sons may be in a position to take it forward.
On the taps today were a range of local ales including Salopian from Shrewsbury , Manning from Congleton, and Weetwood from Tarporley. However, apart from supporting local microbreweries Simon and Nicky will happily source their real ales from far and wide. On the bar this time, for instance, were Butty Bach ("small friend" in Welsh) from Wye Valley and Pendle Witch from Lancashire. My personal favourite was Salopian "The Bends", a gorgeous 5.2% hoppy beer served in perfect condition needless to say. Salopian tasting notes suggest "A fresh field of grapefruit and tropical fruit cascade across the pallet and descend to a long fruit filled finish".
The generosity of the landlord was much appreciated and following the celebration sandwiches were enjoyed by all ....after sufficient appetite was built up! So, we hope that all those who are not yet aware of this fantastic pub please do visit. You will definitely not be disappointed. There are regular trains and buses from Nantwich and Wrenbury railway station is just a 15 minute walk away.
[Report by Francis Sanders; Photo to follow]
South Cheshire 2016 Spring Pub of the Year - The White Lion, Barthomley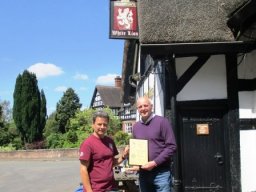 This years Spring Pub of the Year, was awarded to the White Lion at Barthomley, the presentation was made at the branch meeting held on Sunday 15th May.
The White Lion is a popular and well-frequented Marstons pub at the heart of the small hamlet of Barthomley. Dating from 1614, it is a grade 2 listed building of great historic interest, with a thatched roof that unfortunately caught fire about three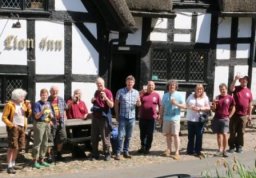 years ago resulting in the shutting of the pub for a while. It has now has resurrected itself very successfully, serving a wide range of customers including the biker community, both petrol and pedal driven, set as it is in the attractive and idyllic countryside near Alsager, conveniently just off the M6. The cosy bar, scrubbed tables and settles, with open coal fires in three rooms, together with the unspoilt historic nature of the pub are much appreciated by locals and visitors alike, as are the six real ales that are usually on draft at any one time from the large collection of breweries under Marston's stewardship, Jennings Cock-a-Hoop and Snecklifter proving particularly popular. This is all complemented by an excellent menu of locally sourced food freshly prepared to order. Once the weather improves, the two garden areas become equally popular, as they overlook both the village church and a small stream and tributary of the Valley Brook. Despite being our Spring Pub of the Year it is definitely a pub for all seasons and a jewel in South Cheshire's crown.
[Report by Francis Sanders; Photos by Robert Shore & Paul Tench]
South Cheshire 2016 Pub of the Year - The Lodge, Alsager
On Wednesday 11th May, members of South Cheshire CAMRA had the pleasure of awarding Pub of the Year to The Lodge in Alsager, a family run free-house hosted by the enterprising and convivial landlords Helen and Phil Goodall, who have really brought this pub back to life in the last few years, like the phoenix from the ashes.
This pub is what might be called a proper real-ale drinking establishment, geared to sourcing a wide range of local and national beers to the discerning customers of Alsager. An old-fashioned two- room pub with long wooden tables but without the distraction of noisy jukeboxes, betting machines or sports TV, it makes for a great meeting place and good conversation with the additional comfort of a roaring fire in bad weather (much of the time recently!) and a spacious beer garden in good weather.
On a recent packed visit I was able to find beers from across the country including rare ones for Cheshire such as the superb Left Handed Giant (Duet 5.2%) a new micro brewery from Bristol and Wye Valley (Butty Bach 4.5%) as well as more frequent visitors such as Oakham Ales, and "Locales" such as Salopian and Townhouse. The landlord is known for also brewing his own beers under the label of Goodalls, and is happy to work alongside appreciative home- brew aficionados in the process.
Needless to say the presentation was very well received and a great evening was enjoyed by all.
[Report by Francis Sanders; Photos by Robert Shore & Kez Challacombe]
South Cheshire 2015/16 Winter Pub of the Year.
The nominations and subsequent votes for our 2015/16 Winter Pub of the Year produced no clear winner and even after a 'play-off' we were not able to split Ye Olde Black Bear in Sandbach and The Vine in Nantwich so it was decided to make two awards…
South Cheshire Winter Pub of the Year - 2015/16. Ye Olde Black Bear, Sandbach
What a treat to walk into a pub on a Wednesday evening to find it thriving, lively and full of customers enjoying some excellent beers. Wednesday nights are 'Open Mike' nights at Ye Olde Black Bear in Sandbach and on this particular Wednesday (10th February) a good contingent of local CAMRA members were also there for a very special event.
Shown in the photograph the South Cheshire CAMRA Branch Chairman, Derek Davey, presents Manager, Serkan Yildiz, with the Winter Pub of the Year award. Prompted by his local cliental to make a speech, Serkan said he was 'speechless…'
Beers on offer included Salopian Lemon Dream, Coach House Farriers, and an excellent Merlin Dark Magic being carefully checked by the brewers David and Sue Pearts. All in all a wonderful evening in a superb pub which, incidently, was nicely rounded off with a lovely saxophone rendition of Gerry Rafferty's 'Baker Street'.
Congratulations Serkan and his team.
[Report by Paul Tench; Photo by Kez Challacombe]
South Cheshire Winter Pub of the Year - 2015/16. The Vine, Nantwich
Report to follow after the presentation on Wednesday 24th February
South Cheshire Autumn Pub of the Year - 2015. The Wickstead Arms, Nantwich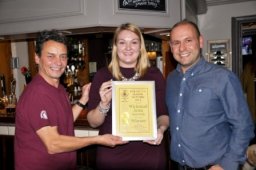 On Monday 10th November a full contingent of the local South Cheshire CAMRA group descended upon the Wickstead Arms, an attractive busy street bar in Nantwich. It was reopened in late 2014, much renovated by Punch taverns and now run expertly by a young woman who has made a point of introducing real ales both local and regional to the discerning drinkers of Nantwich. With a full house of around 25 enthusiasts and two dogs present, Emma was proud to receive the Autumn pub of the Year award from Derek Davey, Chairman of the South Cheshire Branch. There was much cheering and clapping, to the accompaniment of Mike's famous singing dog.
We were treated to an excellent range of beers on the night together with a generous array of snacks and cheeses for all to enjoy . From the 6 beers on tap available my personal favourite was Dark Side of the Moose at 4.6% brewed by Purple Moose at Portmadog, closely followed by Poppy a 4% pale ale from Otter.
[Report by Francis Sanders; Photo by Ian Bray]
South Cheshire CAMRA: Crewe RailAle Festival, Champion Beer of the Festival - Twisted Dragon IPA from Sandstone Brewery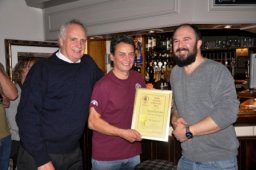 The award of Autumn Pub of the Year was followed by a further presentation to Stuart Deeley, self proclaimed "Dragon Lord and Walter White of brewing"! He is the owner of the Sandstone Brewery in Wrexham together with the Sandstone Inn at Broxton. Stuart won the best beer award of the Crewe Rail Ale festival held in September, when his Twisted Dragon IPA at 5.8% was chosen by a panel of volunteer judges in the tasting competition. This is a premium pale ale using 5 different hops with quite a bite to it! He was accompanied by his son Matt, the "apprentice magician"…. who was responsible for the brew itself and is clearly learning fast!
[Report by Francis Sanders; Photo by Ian Bray]
South Cheshire Summer Pub of the Year - 2015. The Raven, Crewe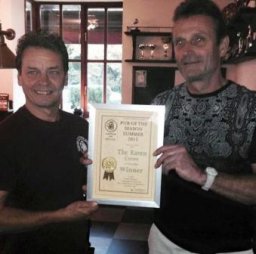 The Raven has quickly established itself as a thriving community pub ever since it was re-opened as a freehouse by Andy Smith at the beginning of 2014. It is perfectly situated between two local estates off Gresty Road in Crewe, so the potential was always there to develop this pub which sadly had been shut for while awaiting repurchase.
Since its re furbishment Andy has brought in a range of beers both locally and regionally, and shown considerable interest in developing the real ale potential of the pub. In place are enthusiastic and knowledgable bar managers Adam and Lynne," part time barlord" Jed, plus a loyal following among the local community. In addition Andy has added music nights, which are both varied and popular, and gaining recognition as a great venue around Crewe as can be seen on their Facebook page.
Therefore it was with great pleasure that a large contingent of our south Cheshire CAMRA group were able to descend upon the pub on the evening of Monday 17th August and be able to present Andy Smith with the "Summer Pub of the Year" award. We were royally treated to some excellent beers on the night at very reasonable prices and a excellent and free buffet meal was made available to all at the pub, making for a great evening. Long may the Raven thrive!
[Report by Francis Sanders]


South Cheshire Pub of the Year 2015 - Presentation at Hops, Crewe
Report to follow









[Photographs by kind permission of Ian Bray]


Community Pub of the Year 2015 - Presentation at The Globe, Nantwich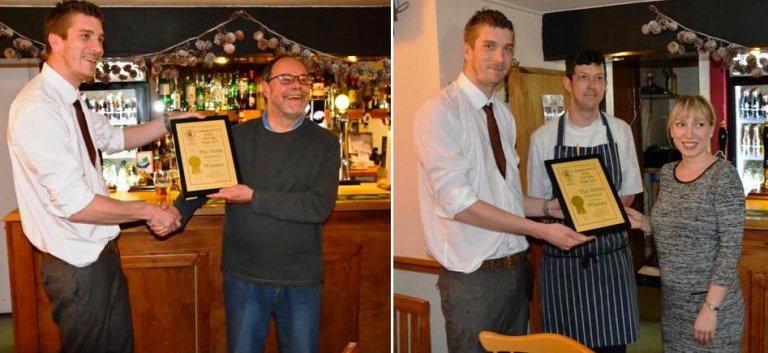 On Wednesday 15th April a small group from the CAMRA South Cheshire Branch were pleased to present the Community Pub of the Year award to the Globe in Nantwich. This pub, the first tied house for Woodlands Beers in the region, has gone from strength to strength since the time it was refurbished some 7 years ago. It is run on behalf of Woodlands by an extremely friendly young couple who have built up a solid trade as a popular pub restaurant as well as providing a great local with guest beers to complement the large range of up to ten Woodlands beers. Coincidentally CAMRA South Cheshire Branch were there only a month or so ago to award them the Champion Beer of Cheshire 2014 for their inspired Midnight Stout, a highly individual multi-award winning 4.4% stout. The pub is very much a communal one with live music on occasions, sports TV, Wifi, and as we could see for ourselves a friendly community of drinkers at the bar. Photo shows Pubs Officer Colin Donald presenting the award and the proud recipients Nick, Carl & Rachel from the Globe

[Report by Francis Sanders; Photographs by kind permission of Ian Davies]



Winter Pub of the Year 2014 - Presentation at The Crown Hotel, Nantwich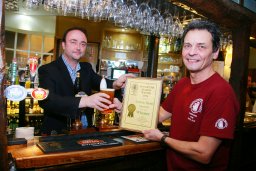 15 Jan 2015; The Crown Hotel in Nantwich has been awarded "Pub of the season" for Winter 2014 by South Cheshire CAMRA at an event on 16th January 2015. About 16 of us converged by bus, train, car and bicycle to hand over this award to Robbie and Mike who between them organise an excellent range of beers from breweries near and far, together with an increasingly popular annual beer festival. A lively night was enjoyed by all, buzzing with customers and entertained by an excellent young pianist playing pop music covers Beers on offer included the house beer Salopian Shropshire Gold, Spitting Feathers Thirstquencer, Flipside Financial Groat and a specialist beer Hank Schrafer's Coconut Cardamom Porter, a unique taste well worth repeating! The Crown is an historic Tudor black and white timbered building in Nantwich, which survived the Great Fire of Nantwich in 1583 and still clearly doing a brisk trade some 430 years on! For real ale fans it is a must. The next Beer Festival will be in early September to combine with the hugely popular Nantwich Food Festival. Don't miss it.
[Report by Francis Sanders; Photograph by kind permission of Tim Jervis Photography]
South Cheshire CAMRA Pub of the Year - The Borough Arms, Crewe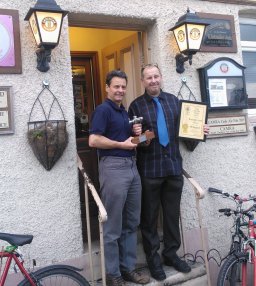 23 May 2013; A good gathering of South Cheshire Branch Camra members were at the Borough Arms on Earl Street/Thomas Street Crewe to witness the awarding of the BOROUGH ARMS South Cheshire's PUB OF THE YEAR.
John and the gang welcomed the members and regulars alike and emotionally accepted the award from Branch chairman Derek Davey to much applaus. Well done all.
South Cheshire CAMRA Community Pub of the Year - The Lord Combermere, Audlem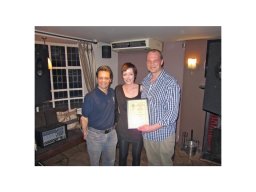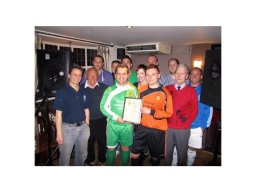 18th April - Lord Combermere was presented with the South Cheshire Village Community Pub of the Year award for 2013.
Derek Davey, chairman of the CAMRA branch said that the Lord Combermere was a deserved winner with its commitment to village life: sponsor of Audlem FC; supporter of numerous events, notably the Music and Beer Festivals and the Fireworks night; host to numerous village groups such as ARS as well as keeping a great range of beers, including many local brews.
Derek also singled out the popular Tuesday night Quiz Nights and live music every Thursday evening.
In response, Allan Brown thanked CAMRA and all the Lord C's customers for their support. He said that he and Jo had now been at the pub for over three years and had definitely made Audlem their home. "You've got us for a long time" he added to loud cheers.
CAMRA member Colin Donald travelled to Audlem for the presentation while local CAMRA member, Will Williams, who had nominated the Lord Combermere for this year's award, was there to celebrate the pub's success.